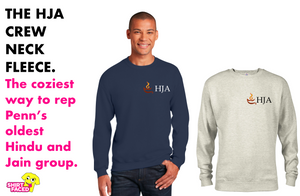 The coziest way to rep Penn's oldest Hindu and Jain group.
This soft and comfy fleece from Gildan Activewear provides lightweight warmth at just 8 ounces! Guaranteed to keep you warm, guaranteed to keep things casual.
HJA has been Penn's premier Hindu and Jain organization since 1999. HJA and ShirtFaced have partnered to help you rep HJA in style!

Are you not following HJA on Instagram? Get with the times!
Or, put any screenshot onto a shirt here: www.shirtfaced.me. Use discount code "HJAcustom" and your Penn email address for 20% off any order of 5 or more custom shirts, tanks or sweatshirts!